"STEM Boat Challenge," by Timothy Baszak, STEM class, grades 5-8 at  Waypoint Academy in Sandwich, MA.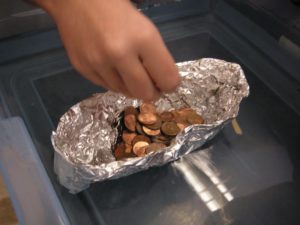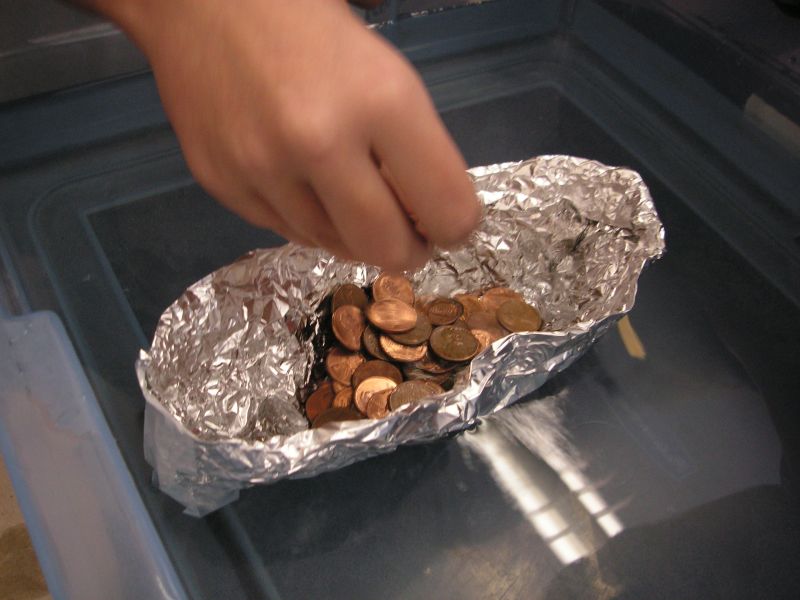 Build a boat that will hold as many pennies as possible while staying afloat.  Teams of 2 are given a $5 budget to use on materials, and must submit a budget plan.  Before you begin building, your team must also submit a sketch (label it please!) to help you determine exactly what materials you'll need.
YOU MAY NOT TRADE MATERIALS!
DO NOT MAX OUT YOUR BUDGET BEFORE YOUR FIRST TRIAL!
  Skill building:
 troubleshooting/problem solving
budgeting
teamwork
  Parameters:
Your boat must hold at least 15 pennies.  The more your boat can hold, the higher your score.  You have two chances to meet the minimum requirements of the challenge.  Pennies are to be placed in your boat one at a time until you reach 15.  Once staff has confirmed that you have met the requirements, you may continue to place one at a time as you wish.  You and your partner must agree how many pennies you'll place (i.e. what number you will stop at), and if your boat sinks in the process, you will get credit for meeting the minimum requirements ONLY.
Your boat must meet the following specifications:
Must have an edge that is at least 1/2″ high.
Must be a minimum of 4″ long, 3″ wide.
No more than 2 cups may be used.
Steps:
Planning/drafting.
Use budget worksheet to plan your design.
Purchase materials.
Build.
Test your design.
Purchase materials/make adjustments.
Final test.
Price List:
foil; $0.50
elastic; $0.10
pipe cleaners; $0.25
binder clip; $0.25
cups; $1
straw; $0.10
popsicle stick; $0.25
tape; $0.50
**We included more materials so the kids could approach this "engineering problem" with varied resources.  It ended up working out great because we had a lot of different ideas being tested.  This was done in STEM class, so experiencing and working through engineering problems through modeling–and to a lesser extent, trial-and-error–was the challenge.
I also felt it was appropriate to make this activity somewhat competitive; any excuse for our population to compete healthily with others is encouraged.  Making it competitive ties into our practice of making EVERYTHING incentive based.  That's pretty much a reflex at this point, and probably not appropriate or necessary for typical populations. (The original lesson stresses a non-competitive lesson.)
Pricing of materials and a budget was introduced so students could practice their planning skills.  Managing time and resources is a skill that they need to practice daily.  Additional materials obviously meant making additional limits/guidelines.